Éclairs
A Chic Modern Transformation of the Traditional Favourite Inspired by Local Delicacies and Flavours.
A French Affair with a Local Twist...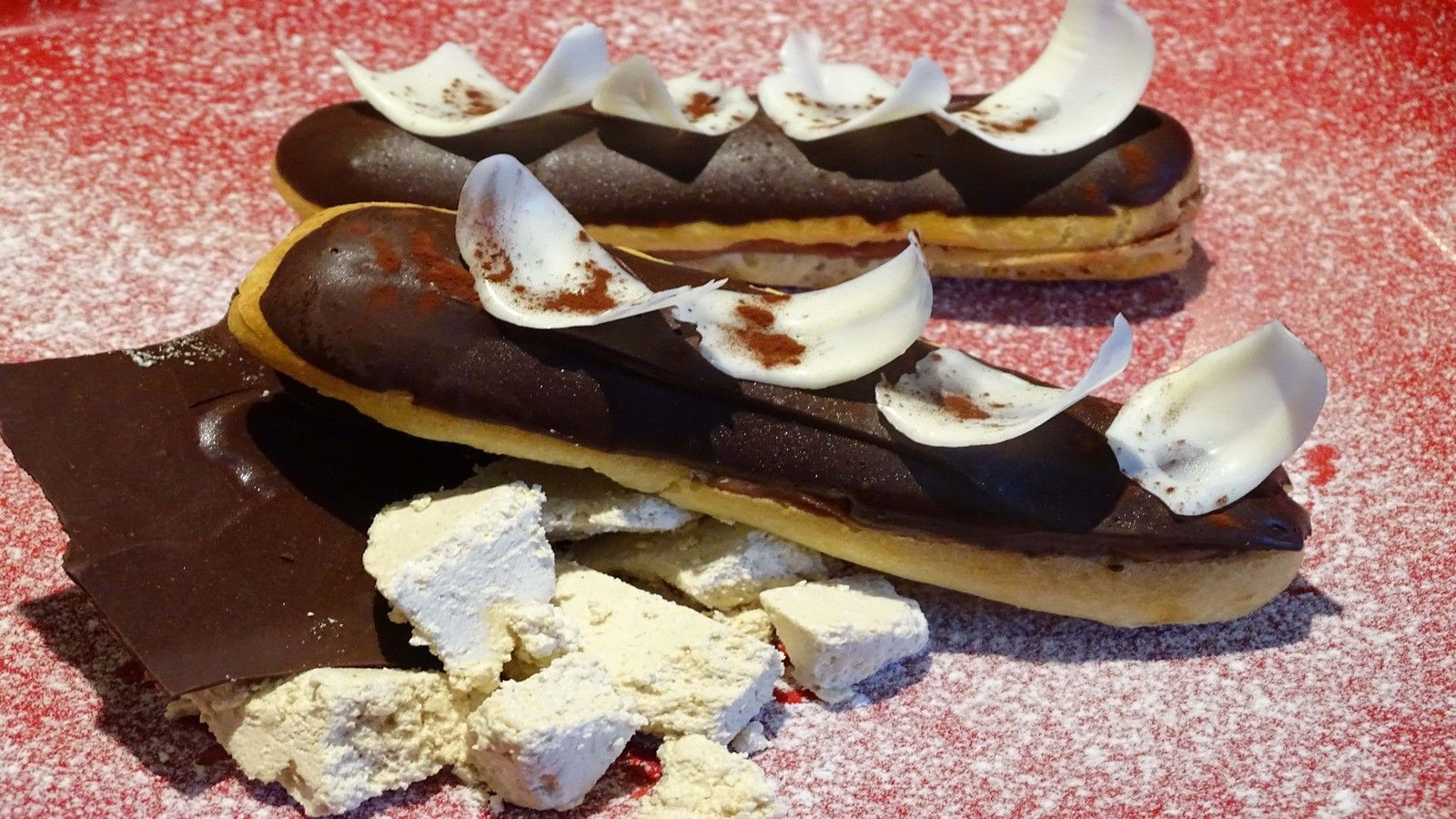 As our love affair with the éclair continues, we have given this French favourite a modern twist inspired by our island destination in the Mediterranean Sea.
Transforming the traditional éclair, we have created the CHOCOLATE AND TAHINI ÉCLAIR.
Chiboust cream is replaced with Tahini (known locally as 'Helwa tat-Tork') and sugar, sesame paste and vanilla are added to sweeten the taste producing a flavour both recognisable and yet with a discernible hint of this beautiful locality.
...Where History and Food Combine.
Orange trees are plentiful in Malta with Lumi Laring, sweet orange, and Blood Orange the most sought-after varieties. Honey is also in abundance so much so that during Greek rule, the island was referred to as Melite (Μελίτη).
Gozitan honey and Lumi Laring oranges are combined with local ricotta cheese to create a delightful taste that truly encapsulates the enticing and exciting flavours of Malta with our Orange and Cinnamon Infused Ricotta Éclair.
Join the conversation #LMECLAIR
Vanilla Éclair
Exquisite vanilla notes and aromas abound with this classic éclair that is the perfect complement to coffee or our effervescent apertifs and Maltese Spritzers with Le Méridien Sparkling.
Chocolate Éclair
The traditional éclair is a long, thin pastry made with choux pastry dough. Filled with cream and topped with the finest chocolate icing, this favourite always satisfies the senses.
Coffee Éclair
Le Méridien coffee culture is expressed with this classic that boasts a distinctly café latte flavour certain to satisfy lovers of coffee. The perfect accompaniment to our expertly crafted Illy Coffee.
Le Méridien and Johnny Iuzzini
Le Méridien hotels have partnered with the award-winning pastry chef and LM100™ member Johnny Iuzzini to develop a series of locally-inspired éclairs exclusively for Le Méridien.
An avid motorcyclist, Chef Iuzzini travelled to iconic Le Méridien destinations far and wide in search of inspiration for new and exciting recipes.
Unlock LE MÉRIDIEN ÉCLAIR